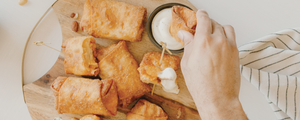 our story
Twisted eggroll All rolled up
Twisted Eggroll was established in January 2015 from a love for food, a passion for cooking, and a hope to touch the lives of many! 
Twisted Eggroll is a frozen packaged product that approaches the traditional egg roll with an infused spin. Our current packaged product flavors include Buffalo Chicken, Veggie Southwestern and Cheesesteak. We do currently offer a fresh made to order catering service in the Chicago area that delivers our extended menu featuring additional flavors: chicken fajita, pizza, mac and cheese and dessert cheesecake and sweet potato eggrolls.
Our Founder
Nikkita Randle, a Chicago native, is a charismatic spirit that loves to travel, cook, eat, dance, sing, and experience new things. A graduate of both the University of Illinois at Urbana-Champaign and Keller Graduate School of Management. Desires of entrepreneurship, cooking, and leaving an incredible legacy fuel her.  After losing her father to ALS in 2010, it was time to establish her own business. Favor has followed Twisted Eggroll since its establishment. A recipient of the Red Eye Big Idea Award Food & Drink 2015,  a partnership with 1871 establishing the ChiBuys program, and a vendor of the inaugural Chicago Riverwalk Community Marketplace. Now her eyes are set on retail and e-commerce. Intertwine your palate with Twisted Eggroll.