All Flavors Available for local pickup only
Select flavors NOW AVAILABLE at Sprouts Farmers Markets
4 Packs of Twisted Eggroll can now be found at select Sprouts Farmers Markets nationwide.
Check out your local store for availability and flavors.

Our story
Welcome to Twisted Eggroll established in January 2015 from a place of love, passion, and hope; a love for food, a passion for cooking, and a hope to touch the lives of many! This is an experience that you will look forward to repeating.
Learn more
These eggrolls are crispy on the outside and filled with delicious ingredients that are seasoned to perfection! Trust me when I advise you to give Twisted Eggroll a try! Your tummy will thank you:)
Kenyatta
In this world where so many entrees were just starting to get a little boring and repetitive, your infusion of these multi-diverse eggrolls have been just what I needed to add another option to my food choices and pleasures. I must say that the cheesesteak eggroll is my favorite!
Stanley
Twisted Egg Roll is more than just a delectable treat...IT IS A PIECE OF HEAVEN! My favorite to date are the Apple Cheesecake, Cheese-Steak and Southwestern egg rolls just to name a few. As a loyal customer, I am here to tell you that you WILL NOT be disappointed!
Jennifer
Twisted Eggroll's Cheese Steak eggroll is exceptional. The meat is tender, the exterior is crisp, and my favorite part is the cheese sauce that makes the eggroll creamy and full of flavor! The different textures make a party in your mouth!
Adrianne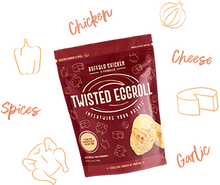 Buffalo Chicken
Flavorful chicken breast in a spicy hot sauce mixture with a zesty cheese sauce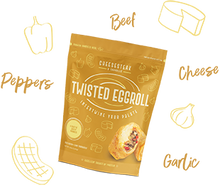 CheeseSteak
Precisely seasoned ground chuck combined with sizzling Serrano peppers, red peppers, and onion
Veggie Southwestern
A zesty flavor filled mixture of: black beans, corn, spinach, and peppers; topped with a cheddar cheese blend
Follow us @twisted_eggroll